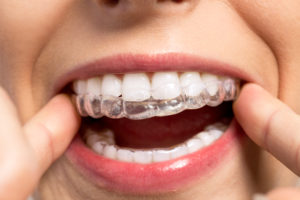 Have you been searching for a way to fix your crooked smile? Are you one of the many frustrated adults who are plagued with misaligned or gapped teeth, but don't want to go back to wearing traditional braces? No longer do you have to worry about a mouth filled with uncomfortable and noticeable metal brackets and wires. Straightening smiles has been made easier with Invisalign clear aligners. At Life Smile Dental Care, our dentists offer both Invisalign and Invisalign Teen for adult and adolescent patients desiring to correct mild to moderate dental misalignment and bite disorders.
Below are some of the many great benefits to this amazing orthodontic solution. If you want to learn more, we invite you to meet with one of our Invisalign specialists at either our Kirkwood or Hazelwood office by calling 314-433-5489 or booking an appointment online.
Corrects Misaligned Teeth
With Invisalign, you can correct a variety of misalignment issues, such as:
Overcrowded teeth
Slight gaps between teeth
Overlapping teeth
Bite disorders (overbites, underbites, openbites, and cross bites)
Crooked or tilted teeth
Virtually Invisible
Aligners are made from clear, sturdy plastic, making them significantly more discreet than metal bracket and wire braces. Because they are fabricated to provide a seamless fit, they are virtually invisible and allow you to move on throughout your day without anyone noticing you are wearing orthodontics.
More Comfortable
Because brackets and wires jut out away from your teeth, they can cause painful sores and cuts on the inside of your lips, especially if you take a hit to the mouth by an elbow, hand, or loose ball. Invisalign aligners are smooth and close-fitting, making them a more comfortable solution for both adults and teenagers.
Shorter Treatment Timeline
Invisalign will be specified to your unique issues. While some patients may require 20 to 25 aligners to correct their smile (roughly about 10 to 12 months), others may only need 10 to 15 aligners (five to seven months). The number of aligners given at the beginning of your treatment will depend on the length of the overall timeline. However, by the end of your treatment, you can enjoy straight and beautifully aligned smile.
Easy Maintenance
Outside of the aligners being clear and comfortable, probably one of the greatest benefits people enjoy is the easy maintenance. Traditional braces make oral hygiene difficult, but with Invisalign, you can simply remove the aligners to effectively brush and floss your teeth. You will be encouraged to wear your aligners about 20 to 22 hours a day for two consecutive weeks, only removing them for eating and cleaning your teeth. However, if you have a speaking engagement or photo session, you can simply remove your aligners for the special event. At the end of the two weeks, you will move up to the next aligner in the series.
If your teen struggles with responsibility or keeping track of timelines, we offer Invisalign Teen. With this system, each aligner has a blue dot that will begin to fade over the course of the two weeks. When it is clear, it notifies your teen that it's time to switch to the next aligner. As an added bonus, Invisalign Teen also comes with replacement aligners for unexpected accidents.
No Food Restrictions
Because aligners can be easily removed, you do not have to worry about food restrictions or getting food trapped in your brackets. All the foods forbidden when wearing traditional braces, such as popcorn, nuts, hard candies, and chips can be easily enjoyed with Invisalign.
Crooked Teeth? No Problem! Contact Us Today
Let us help you begin your journey toward a straighter smile with Invisalign. Please contact us today online or by calling 314-433-5489 to schedule your consultation with one of our dentists.