About Us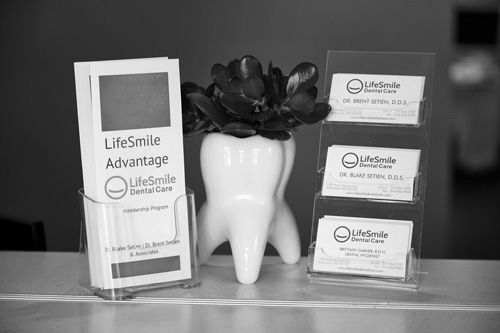 We have been operating since 1982 and have continued to grow our practice with each consecutive year—adding some of the most advanced technology in the field to promote comfort and convenience for all our patients. Our dentists are committed to continuous training on new techniques and methodologies, to give you every advantage when it comes to your oral health.
Our team of doctors balance professional excellence with warm, patient-centered service.
Two of our dentists, Dr. Blake Setien and Dr. Brent Setien, are natives of the area, and graduated from Parkway West High School. They are pleased to serve in their hometown  and look forward to meeting even more members of our wonderful community.
Comprehensive Dental Care
We are a large dental practice, but we maintain the warmth and friendliness of a boutique practice. We promise to listen to you, respect your feelings, and accommodate all your wishes to the fullest degree possible—and we will never dictate treatment. We look forward to meeting you and your family and providing all your preventive, restorative and cosmetic dentistry needs.
Our doctors and staff are here to guide, advise, facilitate, educate, and treat each patient individually. Your satisfaction, trust, and health are paramount to us. We strive to be fair and honest in all of our work; our greatest hope is that all who enter for treatment become permanent members of our dental family.
Convenient Care
We consistently do everything we can to make your dental experience as convenient as possible. The office is open until 5:00pm three nights per week (Monday, Tuesday, and Wednesday), and until 1:00pm on Thursday. Full office hours can be found here.
If you would like to schedule multiple consecutive or simultaneous appointments, to take care of everyone in your family at once, please ask. We gladly accommodate these requests.
If you do have a dental emergency over the weekend, please call us through our main number, and our answering service will put us in touch with you as soon as possible. We will assess the circumstances of your situation and schedule your appointment accordingly.
New Patients
At LifeSmile Dental Care, we want to establish a positive relationship from your very first visit. Rest assured you will feel comfortable with us, and we encourage you to let us know right away if you suffer from any degree of dental anxiety or phobias. We look forward to getting to know you and helping you maintain the best oral health of your life.