Crowns & Bridges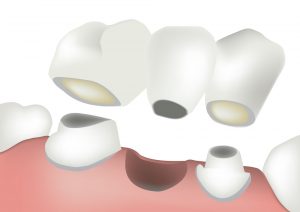 A beautiful smile can improve your confidence and self-esteem. When you're missing a tooth or have painful cavities or cracks, your comfort and enjoyment of life can suffer tremendously. At LifeSmile Dental, our experienced doctors strive to provide you with attractive restorations that let you regain the full function of your teeth.
Many factors contribute to tooth loss, that's why we stress the importance of good oral hygiene. However, even when you brush twice a day and floss daily, you may still experience problematic tooth decay, and even tooth loss. We offer natural looking porcelain crowns to cover a decayed or damaged tooth and bridges for patients who have lost one or more teeth.
The most important step to restore your smile and get your confidence back is to visit LifeSmile Dental Care. Both crowns and bridges enhance your ability to chew and speak with ease, as well as prevent surrounding teeth from shifting or rotating and upsetting your alignment.
What are Crowns?
Made from either ceramic or porcelain, a dental crown is a fixed prosthetic cap that covers a damaged or decayed tooth. If you have a badly decayed tooth, a crown can restore its appearance, protect the remaining enamel and prevent future damage. A cracked tooth can cause sensitivity to hot and cold foods and beverages, but a crown will strengthen the weakened tooth and reduce sensitivity.
In the case that you are completely missing a tooth, we suggest that you have a dental implant surgically placed into your healthy jawbone. It will act as a base for a restorative crown and  provide you with a long-lasting, well-functioning tooth replacement. A dental bridge is another option for replacing a missing tooth.
What is a Dental Bridge?
Missing teeth can cause undesirable changes to your bite, and destabilize your healthy teeth. They can also affect your speech, creating difficulties and embarrassment when you communicate with others. For patients missing one or more teeth, we suggest a dental bridge. Like a crown, this custom-made prosthetic device will help you regain the functioning of your teeth.
Each bridge is custom-made to fit the space left by your lost tooth. If you're in need of a bridge, our doctors will create a fixed prosthetic device that is permanently attached to crowns placed on the healthy teeth adjacent to the gap. This one-piece device is composed of two crowns that go over the healthy teeth, connected by an artificial tooth, or pontic that sits over the gum tissue where the tooth was lost. Some patients don't like the idea of putting crowns over a healthy tooth, but a bridge will protect your tooth enamel from decay, and will stabilize the healthy teeth, so they don't shift into the open space.
A dental bridge can replace one tooth or two teeth in a row. As long as there are healthy teeth that can form the base of the bridge, this restoration will be a good option for replacing your missing teeth. For patients who have lost multiple adjacent teeth, a bridge attached to two dental implants offers a more permanent and stable prosthetic, which offers many benefits over a traditional partial denture.
What to Expect
At your dental visit, we will perform a thorough examination before prepping your mouth for your restoration. Our doctors will reshape your tooth and remove any decayed tooth matter or infection. If there is deep decay, a root canal procedure will be needed to ensure the infection is cleared from the tooth and doesn't lead to an abscess or tooth extraction. Once the tooth is completely cleaned and free of decay, we remove enough enamel to place a crown over the tooth and then take an impression of your bite. A customized crown or bridge will be created off-site in a dental laboratory, and will be ready within a week or so. Until that time, we will provide a temporary crown or bridge to protect the teeth until the crown or bridge is finished. Be gentle with a temporary crown or bridge, as it is not as strong or hard as your permanent restoration will be.
At a second appointment, we will permanently attach your crown or bridge to provide you with a beautiful, natural-feeling restoration. With the proper care, crowns and bridge offer long lasting results. We encourage you to schedule biannual dental visits and cleanings, as well as make good oral hygiene a priority in your life.
If you have damaged or missing teeth, schedule an appointment with our experienced doctors today. Our Hazelwood, Missouri office is always ready to discuss smile restorations and provide patients with quick, efficient results. Make an appointment online or call 314-433-5489.