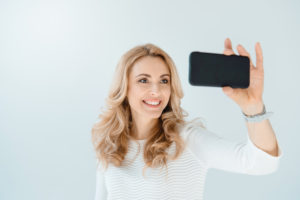 This Christmas – how about buying something for yourself? It may seem strange, since this time of year is all about giving to others. But self-care is a vital part of your health and can positively influence your physical and emotional wellbeing, which in turn affects those around you. By investing in your health with a brand-new smile, you are creating a better version of yourself to share with others.
You want whiter teeth … a straighter smile … or to cover up those unsightly chipped edges? All it takes is a visit to your cosmetic dentist to make your Christmas wish a reality. No more hiding that smile thanks to cosmetic dentistry treatments, such as teeth whitening and porcelain veneers. You can enter into 2018 with the new and improved version of yourself.
At Life Smile Dental Care, we offer a wide range of cosmetic dentistry treatments to meet the unique needs of our patients. After meeting with you and reviewing your desires, we will fashion an individualized treatment plan to help you with your smile makeover. To get started – just simply contact our Kirkwood or Hazelwood office by calling 314-433-5489 or booking an appointment online. Some of the treatments we offer are listed below.
Teeth Whitening
Age, environmental factors, and the foods you eat can all take a toll on the appearance of your teeth. Enamel is durable, but not invincible. Over time it can begin to show signs of wear. If your teeth have a yellowish or grayish tint to them – you may want to consider a professional teeth whitening treatment. While over-the-counter kits are an option, they are not as effective or long-lasting as those found at your dentist's office. We offer both take-home and in-office whitening treatments. One can be used in the comfort of your home on your timetable and deliver gradual results. The other delivers immediate and dramatic results, with a smile up to eight shades whiter.
Porcelain Veneers
When discoloration is more severe and combined with other smile imperfections, such as chipped edges, uneven teeth, and misalignment – you may want to consider porcelain veneers. These thin shells are custom-made to bond to the front surface of teeth to conceal a variety of blemishes. Each shell is fashioned from durable and realistic looking materials to provide seamless results. What's so great about porcelain veneers? They can last up to decades when properly cared for.
Dental Bonding
Although porcelain veneers are an excellent solution, they do come at a higher price point compared to other cosmetic dentistry treatments. If you need something a little more cost-effective that offers similar results as porcelain veneers, dental bonding is the way to go. This treatment uses tooth-colored composite resin to conceal imperfections, such as chipped, gapped, discolored, and disproportionate teeth.
Invisalign®
Want to maintain your natural teeth, but just correct their alignment? You may find Invisalign® extremely effective. This orthodontic system is unlike anything else on the market. It uses a series of customized clear aligners to gradually shift teeth into proper position. Aligners are virtually invisible and more comfortable compared to bracket-and-wire braces. All you have to do is wear each set for two weeks at a time around 22 hours a day. Every two weeks you will advance to the next set of aligners until treatment is completed. At the end of treatment you can undergo professional teeth whitening to enhance your results.
Transform Your Smile
Let us help you enter into 2018 with a brand-new smile. Please contact our Kirkwood or Hazelwood office today online or by calling 314-433-5489.